With State of Social done and dusted for another year, let's take a moment to look back on the first day of the conference that was.
As close to 500 guests made their way into the stunning Riverview Room at Optus Stadium in Perth, we officially ticked off the largest attendance in the history of State of Social.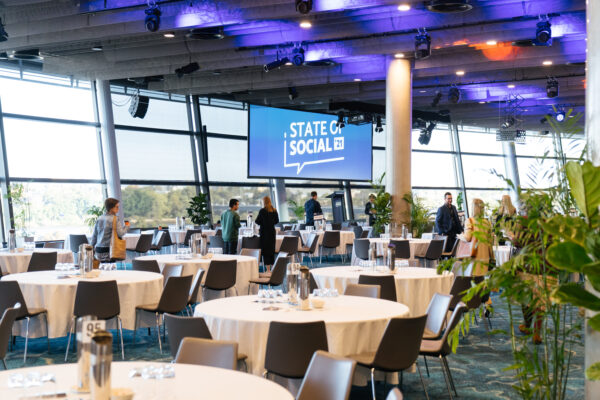 Like years past, we got things started by acknowledging the Traditional Custodians of the land on which we were gathered and paid our respects to their Elders past and present, as some amazing students from Wesley College performed traditional dances as part of a moving Welcome to Country.
After a short-and-sweet opening address from Meg Coffey, we welcomed Adrian Molina from Aviation Gin to the State of Social stage. Well … kind of. Adrian joined us via Zoom from the US, treating conference attendees to a light-hearted and informative presentation about storytelling through humour and the similarities between brand managers and TV showrunners. It was a truly valuable and unique insight into the life of a brand manager working for an exciting brand partly owned by one of Hollywood's biggest stars … Ryan Reynolds. 
Once we had all recovered from being completely lost in Ryan Reynolds' eyes, Rachel Corbett, NOVA Entertainment's Head of Podcasts and Digital Content, put on an absolute masterclass about the world of podcasting and how branded podcasts can help brands grow, reach new audiences, and make more meaningful connections.   
If you've been wondering all about the where what, and who of social media, Suzie Shaw from We Are Social lifted the lid on social trends and where people are spending their time online, how games are becoming increasingly important for brands across the globe, and the steps brands can take to educate their audiences. 
Taking in all of that knowledge from our first three keynote presentations really worked up an appetite. During lunch, we stopped for a cheeky beer tasting from our friends at the Feral Brewing Company, and conference attendees enjoyed an incredible AR art exhibition from Jackbox that really got the creative juices flowing.
With our stomachs (and brains) filling up, the remainder of day one was split up into multiple breakout sessions.
Barry Walker from Wunderman Thompson taught us all about strategy vs tactics, defining your real business problem, and how to set and achieve SMART goals.
Have you noticed the rise of deep fakes on the internet lately? Maybe you haven't. Maybe that's the point … David Stewart from Bennett + Co taught us all about deep fakes, what they are, how to spot them, and how to make them.
Carol McCracken, the Head of Marketing at Willie Creek Pearls, made us remember our point of difference and reminded everyone in the room to remind their customers about their abandoned carts.
The legal cannabis market seems as if it will inevitably take off in Australia, and that's why it was amazing to have Martin Lane from Cannabiz running a breakout session all about the growth of Australia's legal cannabis industry.  
Dissecting, understanding, and completing creative briefs can be difficult. Smiljka Dimitrijevic from 303 MullenLowe lifted the lid on understanding how to avoid common brief-writing pitfalls and nail down the compelling insights and propositions that underpin every great marketing project.
We all want the secrets to break through on social media. That's why we asked Anne Shea to grace State of Social with her presence and teach us how to up your innovation, engagement and conversion game.
Are you struggling to understand the effectiveness of your campaigns? We've all been there. Fortunately, Michael Wretham from Match & Wood was at State of Social this year to show us how to determine and improve the effectiveness and ROI of our campaigns.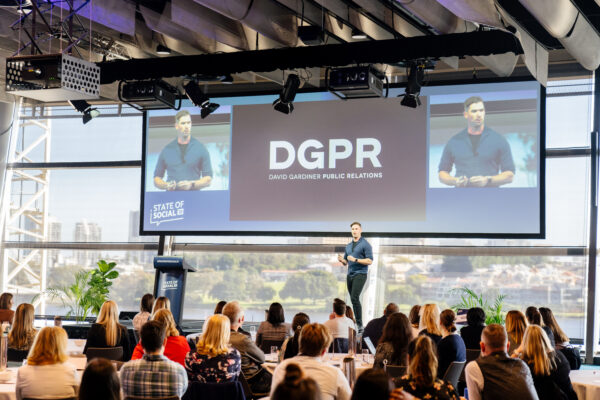 Do you actually know what PR means? David Gardiner from DGPR blew a few minds by letting us all in on how you can use public relations to complement your digital marketing, social media, and so much more.
During Afternoon tea, attendees were treated to a live pearl harvesting, with a few lucky guests going home with pearls worth more than $500 each.
All fuelled up and energised, we headed back into the River View Room for our last two keynote presentations of the day. Zoe Scaman joined us from the UK, walking guests through how brands reach and connect with fans through games, new forms of media, and interactive experiences. 
Following straight on from Zoe, Rae Johnston chose to embrace this year's theme, offering attendees tips and tricks to tame all the chaos that comes with social media and digital marketing, STEM journalism, AI, and how to manage professional burnout.   
After all the knowledge, ideas, and creativity that had been shared on day one, it was time for a bit of networking … and a few drinks, as we wrapped day one with a paper plane throwing competition at #SMPerth Drinks.
If you couldn't make it to this year's conference, you can catch up on all the action with Post-Show Access! And don't forget to follow us on Twitter to be the first to find out all about next year's conference.