In the world of social media, trends come and go in the blink of an eye.
Suzie Shaw gave a State of Social keynote covering gaming, social audio, social buzz, and almost every social trend from the last few years. 
The last 18 months have been a … transformative time in human history, especially regarding social media. Everything from the amount of time we spend online to how we interact with each other has changed.   
If you've been struggling to keep up with all the trends and changes in social media over the last 18 months, you're not alone. Thankfully, however, Suzie Shaw from We Are Social is here to shed some light.
Whether it's gaming, social commerce, TikTok, YouTube, social audio, social buzz, and more, Suzie's incredible keynote at State of Social '21 covered just about every new social trend that has emerged over the last few years.
To be honest, it would be easier to tell you all about what Suzie didn't cover instead of what she did, but we'll certainly try our best.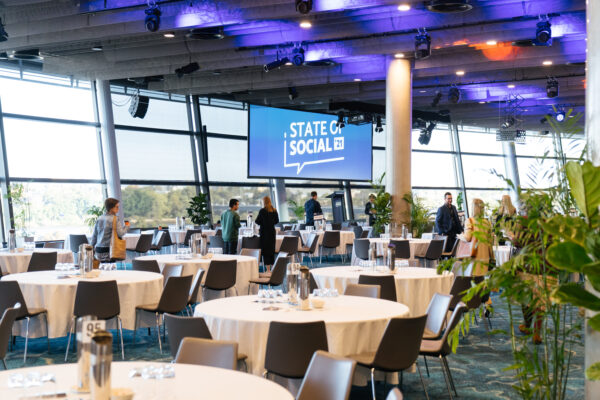 Suzie Shaw says TikTok is here to stay 
While some of us, especially the sceptics in the room, don't like to admit it, TikTok has become an undeniable force in the marketing industry. There was undoubtedly some hesitation from brands about the platform in the beginning, but it's safe to say that the platform has well and truly surpassed fad status now.
"TitkTok's evolution into a mainstream channel means all brands should now consider it within their media mix."
In days gone, repurposing content across platforms was the norm for so many brands. However, as such a niche and unique platform, your content for TikTok really needs to be created with TikTok and its users in mind.
"Brands can't use one-size-fits-all creative across platforms; bespoke content is essential to maximise effectiveness on TikTok."
Social gaming has exploded
Unless you've been living under a rock, you would have almost certainly heard about the explosion of games like Fornite, Among Us, and so many more.
However, what some of you among us (get it?) may not have noticed is the changing nature of how these games are being played … and consumed. Whether it's due to COVID-19 and its many lockdowns around the world, social gaming has exploded in recent history, with millions—including Alexandria Ocasio-Cortez— taking to streaming platforms like Twitch to play games with others online, stream their gameplay, and simply watch other people play.
"Gaming isn't one thing. It's not one game. It's not one platform. It's not one environment. It's a rich ecosystem that brands can use in many ways to activate, and the landscape consists of many different types of games … it's supported by this different ecosystem of streaming platforms like Twitch and YouTube."
The rise of social gaming has opened up a world of possibilities for brands to reach new audiences. With so much talk about customer attention versus customer retention, social gaming offers a highly engaged audience.
"Gaming really commands a longer attention span from its audience."
We could spend all day ranting and raving about Suzie's incredible insights, but why not check them all out for yourself?
If you want to dive deeper into Susie's keynote, watch her whole presentation with Post-Show Video Access! If you'd like to reach out to Suzie Shaw, make sure you connect with her on Twitter.