Have you ever wondered what it would be like being the brand marketing manager of a gin company, partly owned by one of Hollywood's biggest stars?
If you happened to be at State of Social '21, you wouldn't have to wonder anymore because Adrian Molina from Aviation Gin called in via Zoom to shed some light on what it's like to work with such a massive celebrity and how to harness that level of influence.
You might think there aren't too many similarities to being the brand marketing manager for a Portland-based gin company and being the showrunner on Law & Order: SVU, but you might just be surprised.
Whether it's accountability, maintaining creative vision, or making important decisions, there's plenty to being a brand manager that people don't realise.
Here's a quick recap of Adrian's entertaining and creative keynote presentation.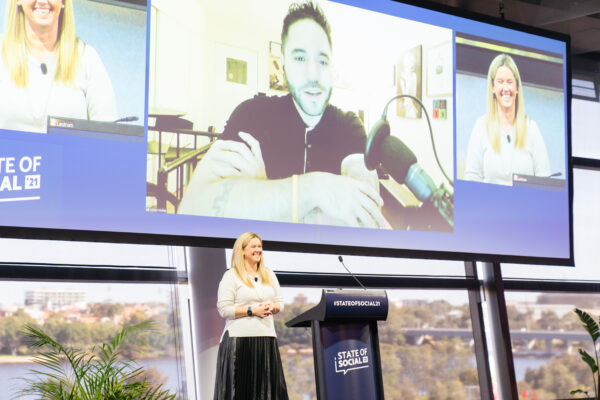 Consumer attention and retention
What's the one thing that Netflix does better than anyone else in the world? Romantic comedies? Sure. Comedy specials. Definitely. Reality TV shows about dog grooming? Yeah…
But the one thing Netflix does better than just about anyone else in the world is customer retention and attention. If you're at all familiar with Netflix, you'll be well aware of the term "binge-watching."
It's the reason Netflix needs to check in on you when you've been watching TV for hours and hours. It's also great for business. However, can we take that same approach to brand marketing?
That's precisely the insight Adrian Molina shared with the State of Social '21 crowd.
"The holy trinity for TV shows and great brand marketing is consumer attention and retention. Great TV shows want people to binge. Great brand marketing wants people to share the ad, re-digest it, buy the products, and tell their friends."
Much in the same way that showrunners need to protect the creative vision of a TV show, they're also held accountable for the ratings of their shows. For marketers, you should see yourself the same way. The creative vision is your responsibility, and your sales are your ratings.
"When you think of yourself as a marketer, you should always think of yourself as a showrunner."
Working with celebrities with huge influence
While we'd all love to have a celebrity of Ryan Reynolds' stature at our disposal, we can't all be so lucky. However, just because you have massive influence at your disposal, you're not simply guaranteed success.
The world (and the internet) is a busy place. There's so much competition out there that simply throwing a celebrity endorsement at people isn't guaranteed to cut through the noise and help grow your brand. Sure, it certainly helps, but it's not all fun and games.
When you think of your brand as a TV show, having Ryan Reynolds as your lead is sure to get some people tuning in. Take a look at one of the ways Aviation Gin has used Ryan Reynolds' influence to reach new audiences.
"People who are consuming alcohol with their friends aren't talking about the 100-year-old distiller. They're talking about current events, having good times, and joking."
If you're at all interested in what it would be like to run ad campaigns with a global celebrity as your centrepiece, Adrian's keynote is definitely one not to be missed.