Wunderman Thompson's Cameron Jones is working his mural magic again.
Just when you thought we couldn't cram any more talent into State of Social's two days at Optus Stadium, we sign up Wunderman Thompson wunderkind Cameron Jones once again to create a real-time mural masterpiece.
Watch Cameron cast his creative spell.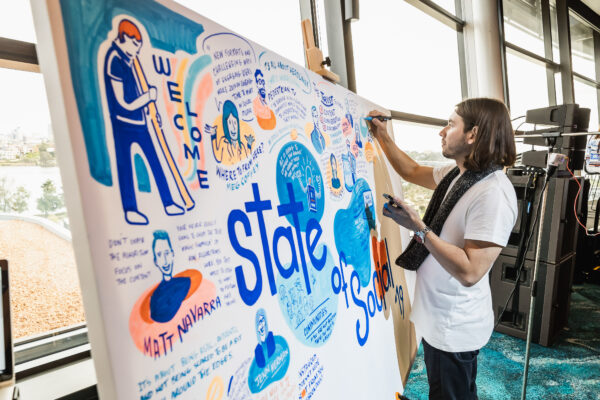 In his day job, Cameron is a Lead Designer at Wunderman Thompson, where he uses his considerable talents as a designer, illustrator and art director to make brands shine.
But anyone who attended State of Social last year and saw Cameron conjure up a real-time artwork of the conference AS IT HAPPENED will know he's also a magical muralist.
What other treats do we have in store?
Bottom-less, barista-brewed coffee. Gourmet eats and treats. Puppies to cuddle. The list goes on.
Oh, and a prodigious program of keynotes, debates and discussions that will set you up with all the social and digital strategic smarts you need for an epic 2021.