The digital age is exciting, but navigating it isn't always so easy or accessible.
Closing out day one of State of Social '21, Rae Johnston joined us via Zoom for an inspiring and refreshing keynote presentation on STEM (science, technology, engineering, and mathematics), emerging technologies, AI, the digital divide, and professional burnout.
Before we go any further, we'd just like to stop for a moment to introduce you to who Rae is: award-winning journalist, editor, broadcaster, producer, podcaster, actor, cultural commentator, social advocate, mentor, gaming royalty, and all-round geek.
Is there anything she can't do?
Here's a quick recap of Rae's incredible keynote presentation.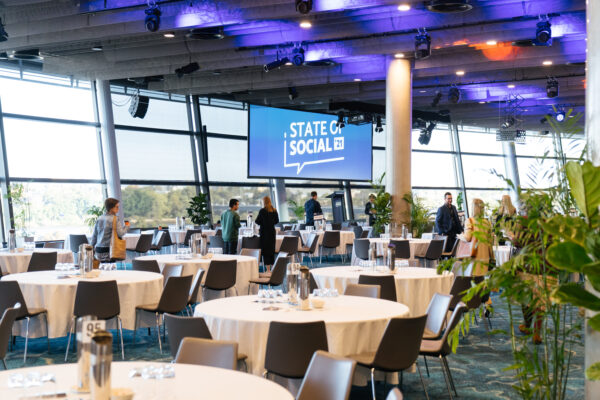 Rae Johnston's Professional burnout 
Have you ever felt like you might be burning the candle on both ends and the middle? In an age where mental health and work-life balance is placed under the microscope, you're just as likely to see people constantly preaching hustle culture and pushing people to work harder and harder.
Having worked harder than most can imagine for the majority of her professional career, Rae knows the feeling of professional burnout all too well, and she was eager to share her experiences as a word of warning to conference attendees.
"My mantra was 'never hope harder than you work'. It got me to where I was, but it also almost killed me, and I had to learn to recognise the signs of burnout."
Rae shared some important tips on how to avoid burnout:
Say no to things
Pass on opportunities to others
Have hobbies outside of work
Get offline and get outside
The digital divide
Did you know that 2.5 million Australians are not active online? That's a pretty surprising number, right? That's a huge chunk of people in Australia who can't take advantage of the benefits that digital connectivity offers.
"As the internet becomes the default way that we communicate and inform and interact, the disadvantages of being offline only continue to increase."
It was a thought-provoking point from Rae during her keynote, as we often think of being online as simply jumping on the internet and binging our favourite Netflix shows. Nowadays, however, it's so much more than that.
"Digital inclusion is not just about computers or the internet or even technology. It's about using online and mobile technologies as channels, as ways to improve skills, enhance quality of life, drive education, and promote economic well-being across all elements of society. Digital inclusion is fundamentally about social participation."
However, there is hope. As Rae went on to say, "People who have been locked out of the digital landscape will be the next big thing. They will be the next disruptors. Once everyone is on board, everything will change for the better!"
Will a robot take my job?
As AI continues to improve and technology advances, there will always be the question: will a robot take my job? Sure, there may be robots that can lay 3,000 bricks an hour, and there are 3D printers that can construct entire houses from concrete in 24 hours.
However, as Rae so aptly put it, "we will always need people to be people, especially online."
Will we ever have a robot giving a keynote presentation at State of Social? Who knows …
Rae's keynote sounds like something you want to check out? Well, you can catch the whole thing with Post-Show Video Access! If you want more from Rae Johnston, make sure you connect with her on Twitter.